Jurassic World: Dominion Dominates Fandom Wikis - The Loop
Play Sound
Extra Chapters

•
Special Side Story
Special Side Story is set after Kyoko finally acknowledges her feelings for Ren, after Chapter 203. This extra chapter was not included in any of the volumes.
What is revealed
In this extra chapter, it is revealed what Kyoko got Ren for his birthday.
Extra Chapter Summary
Kyoko saw a magazine featuring Ren's interview and bought three of them: one to read and two to keep.
In the interview, Ren was asked if he could only bring three things to a desert island, what they would be. He took out the sheep pillow and with a serious expression he said he would definitely bring it with him. Other things he said he would take would be a knife and his wristwatch.
Kyoko was again under the moe attack of the picture of Ren with the super-cute sheep pillow that looks so out of place. Ren slept in Love Me office with his sheep pillow, courtesy of Yashiro who is trying to create opportunities for Ren and Kyoko.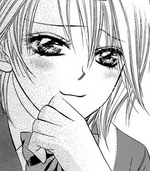 When Kyoko saw him with the sheep pillow she was so embarrassed but was so kyuned by how cute he looks that she took out her cell and took a picture of him and ran out of the door. Once outside, she looked at the picture again, and despite telling herself she shouldn't do it, she set it on her homescreen...
Ren was awakened by the clicking sound of taking picture but didn't see anything and thought he must have misheard.
In the meantime, Kyoko decided that the picture she took, along with her deepening feelings for Ren, would be her most treasured secret.
Character In Order of Appearance
Characters in Order of Appearance