The story revolves around girl named Kyoko Mogami who went with her childhood friend, Sho Fuwa, to Tokyo in order to pursue his dream of becoming an idol. Kyoko supported Sho by working three jobs at once every day but it stopped when Kyoko overheard Sho saying that he only took her to Tokyo to use her as a maid. Furious, Kyoko joins LME, the agency where Ren Tsuruga (who is Sho's one-sided rival and the number one actor in Japan) works, in hopes of achieving her goal on getting revenge on Sho. Along the way, she learns to discover herself, encounter different people and situations she never expected to be in.




ACT.269 - Unexpected Results -The Day Itself-

Ren have admitted that the way he talked to Kyoko was quite immature. On the other hand, Kyoko overhears two girls talking about silent treatment and contemplates if she should do the same to Ren. However, when she saw Ren's missed call, it was common sense that overpowered Kyoko's decision. The next day, a tabloid comes out with a scoop about Ren's lover.

Read the whole chapter summary...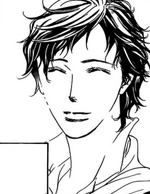 Hiromune Koga (古賀 弘致 Koga Hiromune) is a popular male actor. He is currently starring as the wandering samurai, Shizuma Sakanoe, in the period drama A Lotus in the Mud. Hiromune is an easy-going person with a more flexible way of thinking than his co-judges at the Momiji auditions.

He doesn't mind having a laugh at their expense, like when he sneered at Kimiko's attempt to glide like a ninja, which came off rather silly. Hiromune is also very friendly, as seen when he approached Kyoko easily right after the second part of the audition ended.
Read more...

Follow and Like us on Facebook, Twitter and Tumblr!


Localized Versions of the Skip Beat! Wiki

Click here to see the previous poll results.

These are the events to be looked out for November-December 2017.


November 12 - Ivy Chen (Kyoko Mogami)'s Birthday
---
November 20 - Chapter 253 Release in Japan
---
December 18 - Marks as the 5th year since the live-action started airing
---
December 20 - Chapter 254 Release in Japan
---
December 24 - Maria Takarada's Birthday
---
December 25 - Kyoko Mogami's Birthday
To see old events, go here.



"Even I was totally duped. Ren would never notice her feelings since he wouldn't understand the subtleties of a maiden in love. I find this promising. I don't want Ren to realize her feelings for him yet. Nothing is more miserable than a doggy that can't eat even when the meal is meant for him."

- Lory on finding out that Ren and Kyoko loves each other

The Skip Beat! Wiki is not in anyway affiliated with the author nor the publishing company of the Skip Beat! (スキップ・ビート!) series.