Jurassic World: Dominion Dominates Fandom Wikis - The Loop
Play Sound
Miya
Kanji
宮美矢
Rōmaji
Miya
Live-action Name
Unknown
Personal Information
Gender
Female
Age
Presumably in her late teens or early 20's
Status
Status
Alive
Occupation
Gas station worker
Debut
Manga
ACT.006
Anime
The Labyrinth of Reunion
Live-action
Episode 3 (Live-action)

Miya (宮美矢 Miya) was a co-worker of Kyoko Mogami when she worked at a gas station after she failed in the LME Auditions. Miya is a big Sho Fuwa fan.
Appearance
She has a long, straight dark-brown hair which she leaves down. She is seen wearing the gas station uniform which consists of the red jumpsuit as well the cap. Her height is around the same as Kyoko's.
However, in the live-action adaption, she sports black bob instead of long, brown hair. She also wears black t-shirt as a uniform instead of the red jumpsuit.
Personality
Miwa is seen to be a nice, friendly and out-going girl who is very out-spoken of being a fan of Sho Fuwa's and she also thought that Kyoko Mogami was a fan of his too because Kyoko was on the floor while watching Sho's commercial, thinking it was because of her admiration for Sho but instead, it was actually Kyoko trembling because of her anger for him.
Background
Nothing much is known about Miya's background.
Plot
Miya asks Kyoko if everything is all right, if she really does not want to see a doctor because her bruise looked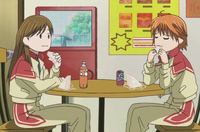 pretty bad.[1] Miya then says, "Is that so.." then looks a bit worried. Then, their conversation is interrupted when a commercial of Sho shows up in the television, Kyoko freaks out because she is disgusted by the commercial while Miya fangirls, screaming that Sho is so handsome.[2] Then, Kyoko falls over in the floor.
Miya mistakes it as her being so overwhelemed how handsome Sho is and asks Kyoko if she was a Sho fan too.[3] They both walk out since their break is over and sees Sho, who is walking out of his agency's van.
Miya took her chances and already asked Sho for an autograph.[4] Then, Miya says that she saw Sho's commercial that day and she was really blown away because he looked so handsome.[5] Then, Miya says that Kyoko was also blown away to the point that she could not even stand up.
Kyoko looks at them and fake compliments Sho while both Miya and Sho watches her.[6] Shoko tells Sho to go in the van but then Miya invites Kyoko to at least shake Sho's hand. Kyoko ignores her but then, Miya was about to say Kyoko's last name[7] which made Kyoko run up to them and cover Miya's mouth in order to prevent on saying her last name.
Kyoko's hat fell off and she thinks that Sho might realize it's really her.[8] But, Sho did not recognize her and thought she was really one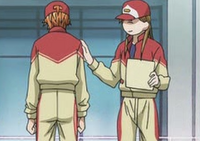 of his fans. So, he offered his hand and Kyoko relucantly took it, while Miya was putting her hands over the top of them and told Kyoko not to be shy. Kyoko then asks Sho if he does not recognize her[9][10] then Sho replies that he doesn't recognize all his fans.[11]
Still thinking that Kyoko was a Sho fan, Miya told Kyoko to just forget about it because most pop stars are probably like that.[12] Then, Miya was seen terrified by Kyoko's aura with her apparitions surrounding her.[13]
Relationships
Miya was very friendly to Kyoko, even though they have only been together in the job for a day or so. She asked him if she was fine after falling off the street and even invited her for a lunch together during their break. She was also supportive of Kyoko, even encouraging her to shake hands with Sho under the assumption that she was a fan.
Miya is a big fan of Sho. When his commercial was playing on the TV during their break, Miya couldn't help but fawn at him. She even freaked out when she saw Sho dropped by in the gas station they were working for, immediately asking for his autograph. Sho, on the other hand, was more than wiling to comply with a fan's request.
Etymology
Quotes
(to Kyoko Mogami in front of Sho Fuwa) ❝Hey! Why don't you at least have him shake your hand? Hey! Ms. Moga—mhmph...❞[14]
Gallery
Main article: Miya/Gallery
References