Matsushima
Kanji
松島
Rōmaji
Matsushima
Personal Information
Gender
Male
Age
Presumably in his late 30's
Status
Status
Alive
Occupation
Head of the Acting Section at LME
Affiliations
LME
Debut
Manga
ACT.003
Anime
Feast of Horror
Portrayal
English Voice Actor
Kaiji Tang

Matsushima (松島) is the head of LME's Acting Section. His and Nakazawa's first name are unknown, unlike the other LME Section head, Takenori Sawara. He is always shown helping out Kanae Kotonami, being the prominent person who introduced her to the Love Me Section.
Personality
Mataushima appears to be blunt, as shown when he remarked honest impressions about Kyoko during the LME Auditions. He is also shown to be reliable and capable of his work, as shown when he guides Kanae throughout her journey, telling her about offers and giving her handouts about auditions.
Appearance
Matsushima have a clean-cut styled brown hair along with brown-colored eyes. He is shown wearing mostly formal clothes that consists of long sleeves paired with slacks and a tie. However, later on, he was seen sporting sweaters along with slacks.
Background
Nothing much is known about his background. Since he is a head at the sections of LME, it seems like he has been with LME for a while.
Plot
After Nakazawa said something about a break, Matsushima disagrees. While smoking, he said that after going through thirty applicants, there weren't a lot that really caught his attention and could really say, "That's the one!".[1]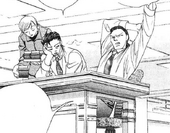 Nakazawa said there's more applicants but Matsushima replies that what he means is, there's those type of people that you could feel that would become a star even before they become famous. Later on, upon Lory's arrival, he was seen making a poker face along with Nakazawa.[2]
When Kanae presented her talent, he was already seen as curious to what she's about to do. After Kanae declared she has already memorized it, Matsushima said a certain moment from the
book[3] then Kanae immediately started her talent.[4] Matsushima was then seen looking at the script along with Lory and Yashiro while Kanae was performing the scene.
Matsushima then sighs that there was one girl left, which is Kyoko Mogami. He says that he was actually looking forward to it initially because Sawara has insisted that she took a part but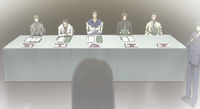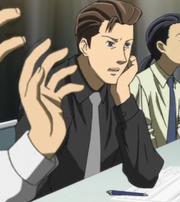 he was extremely disappointed because in the end, it seemed like she was just going after Sho Fuwa based on her introduction earlier.[5] Nakazawa agrees with him and both of them agrees to not expect any talent from her. However, they were reprimanded by the President, asking them if they feel something deeper than her reason for joining. Matsushima, along with Nakazawa, shook their head and declared that there's absolutely no chance of that.[6]
Before Kyoko started her talent, Matsushima said that he would rather see an imitation of Sho Fuwa.[7] However, along with other judges, he complimented Kyoko for the unique talent she showed.[8][9]
On the second part of the audition, he was greatly impressed with Kanae's ability to cry within the short reaction test.[10] When it was Kyoko's turn, he was cringing at the atmosphere Kyoko gave.[11] Matsushima was then shown making a poker face towards Lory and Sawara's reactions on the outcome.[12]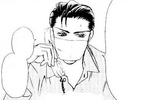 A sick Matsushima is called by Ren, asking him to not assign Kyoko as his substitute manager.[13] Matsushima refuses because even though she is from the Love Me Section, even Kanae had to do a job of a substitute manager for another celebrity and overall, he is not worried about Ren's work because rather, it is something else.[14]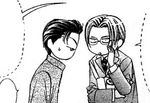 Matsushima bumped to Yashiro[15] in a vending machine. Matsushima wonders what Yashiro was doing there and it turns out the staff meeting about the project was already over. While Matsushima turned around for any possible witnesses, Yashiro whispers that the character this time for Ren is not only BJ, because he'll also be playing as a certain 'Actor X'.[16] Matsushima says that since Ren would be more busy, Yashiro would be too so he should rest whenever he can. Matsushima then asked for more details about the project.[17]
Since Valentine's was around, Matsushima warns Kanae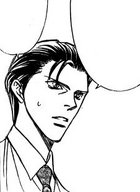 Labout any possible new antics from Lory.[18] Matsushima says that no matter what, Lory likes everything love-related and he actually really likes it from the bottom of his heart.[19] Matsushima says that if she encounters Lory one of these days, he will definitely ask about that.[20] When Kanae says she'll lie that she have a lover, Matsushima said she expected that from her but she has to be more careful since Lory can't be fooled easily. Kanae gets annoyingly worked up about love which made Matsushima think that with her bluntness, she definitely didn't change from a year ago.[21]
Matsushima is shown giving Kanae a new script of the Minamori Miyako series.[22] He says that the series seems quite popular and says that for the new series, the scenes where she and Hiou interact would be more warm.[23] Matsushima says that in order to let the viewers stay despite the tedious conversations on the script, Kanae and Hiou will serve as the 'haven' for the viewers.[24] He tells her that it's quite an important role and she should give out her best as well, like always. However, he noticed that Kanae was not listening anymore and instead, was looking intently at the script. Matsushima wondered if there's some co-star that Kanae didn't like.[25]
Upon seeing Ren, Matsushima greets him and asks about the project.[26] He then pointed Lory to Ren, who is watching the show 'Kironotto'.[27] However, Matsushima said that he couldn't imagine Lory watching it just because an LME Talent, Kyoko Isozaki, is in it.[28]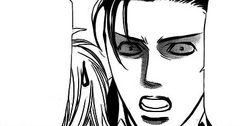 Matsushima showed a worried face when Kanae asked about the role of Momiji.[29] When Kanae says it was Kyoko who wanted to get the role, Matsushima felt relieved and said that she must've not gotten the information because she was under the talent section. He gives out the audition form to Kyoko easily.[30]
When Kyoko was filling out her audition form for Momiji, Matsushima firmly directs Kyoko to just put in 'LME' and not put specific details such as the fact that she's part of the Talent Section.[31]
Relationships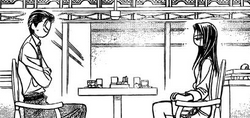 Matsushima essentially serves as Kanae's patron at LME. Ever since the LME Auditions, Matsushima was greatly impressed with Kanae's acting abilities. He has guided her ever since, introducing her to the Love Me Section and so forth. Since Matsushima sees a lot of potential in her, he is the one who handles Kanae's offers and even gives her handouts for auditions. He even warned her about the President's usual antics during Valentine's day. Although it has been around a year since he met Kanae, Matsushima thinks that Kanae haven't changed one bit as she still lacks the 'love' Lory wants to see.
Matsushima look very close to Nakazawa because during the LME Auditions, they were the ones who talked mostly. The two even had the same opinions when it came to Kyoko regarding her motive to showbiz and underestimated her before she showed her special talent.
Matsushima has a fairly good relationship with Sawara. During the LME Auditions, Matsushima exclaimed that he expected something from Kyoko since it was Sawara who recommended her, showing off much trust on Sawara.
Matsushima seems to be familiar with the President's antics, as he was shown to be unfazed by his extravagant entrance during the LME Auditions. He also knows of Lory's addiction with anything related to love, so he warned his protege, Kanae, about Lory's possible antics when Valentine's Day was near. He refers Lory as a 'Lovemon', a person who is like a monster who lives on love. Later on, Matsushima also thought that there is something strange when Lory watched a show not related to love because he usually watches shows with romance fully filled in them.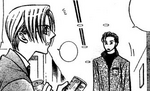 Matsushima is one of the few people Yashiro can confide into about Ren's projects. He is the one who announced to Matsushima about the certain 'Actor X' that Ren would also be portraying other than Black Jack. Matsushima seems to care for Yashiro since he told him to get more rest whenever he can because for sure, he and Ren would get more busy with enormous new projects.
Ren is technically under Matsushima's supervision, since Matsushima is the head of the LME's Acting Section. When Ren came back from Guam, the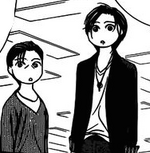 first place he passed by was the acting section to visit Matsushima. He also knows of Ren's special role as BJ.
Matsushima underestimated her during the LME Auditions because of her motive and even remarked that he'd rather see her doing an imitation of Sho Fuwa. Later on, he seems to recognize Kyoko's acting abilities as he was seen willingly giving her handouts after Kanae informed him that Kyoko was interested in Momiji.
Gallery
Main article: Matsushima/Gallery
Quotes
Etymology
The surname Matsushima means "pine tree, fir tree" (松) (matsu) and "island" (島) (shima).
References