Jurassic World: Dominion Dominates Fandom Wikis - The Loop
Play Sound
Lucky Number "25" After ~Sweet Bitter~ is the extra chapter included from the Skip Beat! Fanbook - Love Me!.
What is revealed
Extra Chapter Summary
Maria looks horrified. She feels bad because she only remembered Kyoko's birthday after their Happy Grateful Party. Maria calls out "Onee-sama!" which got Kyoko, Ren, Yashiro and Kanae's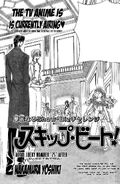 attention. Kyoko replies that her timing was good, because she and Ren were just talking about her. Before Kyoko could say anything else, Maria asked if it was really Kyoko's birthday. Maria, almost into tears, apologizes to Kyoko because she didn't know about her birthday. Kyoko just smiles at her and says it's okay, because she didn't tell anyone about her birthday so it's natural for Maria not to know. Kyoko then changed the topic and asked Maria about her father. Maria replied that her father got a call about work so she thought that she shouldn't disturb him. Maria then thinks she feels so irritated because her father surprised her right in Kyoko's birthday. Kyoko then

replied that after Maria's father finished his work, Maria could spend more time with him again. Maria replies she's already used to her father being busy. Maria then asked what was Kyoko saying a while ago, when she mentioned Ren. Kyoko says "Ah" and stares at Ren, while he smiles at her. Ren tells Kyoko to go ahead, but Kyoko insists that Ren should go ahead because Ren is her senpai. Maria then wonders and asked if it's something about her. Ren then brings out a ribbon. He tells that he was
supposed to give that to Maria before her Grateful Party ends but he did not really have a good timing. Ren tells Maria that it's a ribbon from Jeanne d'Arc. Maria gazed at the ribbon and tells Ren that it was the first time she saw the ribbon. Ren then explained that he had connections at Jeanne d'Arc so he asked them to make a customized ribbon just for Maria.
Ren then said that the ribbon is for Maria, who did not change and is still good until that year, with his 'thanks' put to it.
Maria blushed and thanks Ren, but then she is surprised to see another Ren. It's a [[Ren
Tsuruga doll|Super-sized Ren Tsuruga doll|Ren Tsuruga doll.]]. Yashiro and Kanae is shocked by the scene and so do the other people watching just behind Yashiro and Kanae. Kyoko then finally speaks and says that the Super-sized Ren Tsuruga doll is her gift for Maria, with her 'thanks' put into it. Maria instantly expressed her fondness for the doll, playing around with it. Kanae and Yashiro both think that Maria is really happy. Yashiro explains that the doll Kyoko made was actually half of Ren's actual height. Yashiro is totally shocked while

Kanae is left speechless. The other people watching the scene were dumbfounded.
Ren is overcome with surprised. Maria asks Kyoko why did she give her a doll. Kyoko says that she didn't give her doll before to her because it was a trial product and she should not give trial product to other people, but she has always intended to give it to Maria.
Maria hugs Kyoko and says that she is really happy. Kyoko showcases other two very realistic masks of Ren, which she named the "prim mask" and "proper mask". This horrified and dumbfounded Kanae and Yashiro more. Maria is again overwhelmed with happiness.
Ren then said that now, he knows the reason why Kyoko wanted him to go first. Kyoko said he is wrong, she said it might be rude, because she received a really good gift from him and it looked like she was selling him off. Ren agrees. Then, he says that now, he never knew that she was fantasizing about him. Kyoko then blushed and said that it's 'observing' not 'fantasizing'.

Later on, Maria gives her gift to Kyoko. It was curse items she ordered online. Maria explained to Kyoko how they worked and Kyoko used them immediately, writing "Shotaro" on the hate curse tool. Kanae watched the scene with an horrified expression.
Character In Order of Appearance
Characters in Order of Appearance