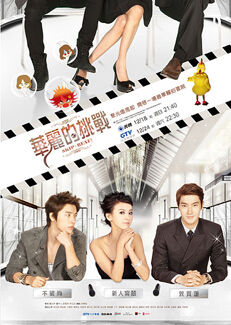 Skip Beat! (TV Series) or also known as Extravagant Challenge, premiered on 18 December 2011 by the free-to-air terrestrial television channel on FTV Main Channel and 24 December 2011 by the cable subscription television channel on GTV Variety Show.[1][2]
The Skip Beat! live-action adaption is a joint production between Taiwan and Japan, and is primarily produced by Gala Television under executive producer Doze Niu.[3]
Manga Comparison
The live-action adaption follows the manga through the end of the Dark Moon arc, which is slightly further than the anime. It does include some written additions, but is mostly very loyal to the manga.
Relationship Diagram
ChineseChinese | JapaneseJapanese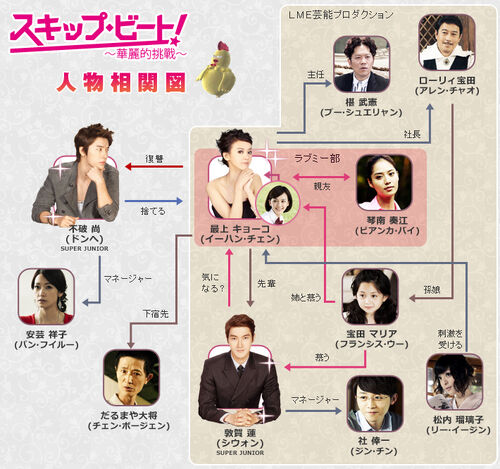 History
Development of Skip Beat! began on 1 January 2008 after the casting of Ariel Lin and Jerry Yan in the main roles.[4][5]
On 1 January 2009, Gala Television had to indefinitely postpone the production due to several financial setbacks and script re-writes, causing Yan to drop out of the project.[6]
The series was brought back into production following the signing of Super Junior members Siwon and Donghae in the main roles as Sho Fuwa and Ren Tsuruga on 1 May 2010.[7][8][9]
Last 1 February 2011, one month before filming, Ivy Chen replaced Ariel Lin, who had already signed to film another production when Skip Beat! was languishing in development hell. Filming then began on the 1st of April 2011 with locations in Taipei (a national capital of the Republic of China) and Tokyo (a national capital of the Japan).[10]
The filming ended on 1 July 2011, making the filming of the series four months overall.[11]
Cast
Trailer
References