Kyōko Mogami (最上 キョーコ, Mogami Kyōko) is currently a member of the Love Me Section with Kanae Kotonami and Chiori Amamiya. She starred in the hit drama series, Dark Moon as the infamous Mio Hongo and is currently starring in the drama series, Box "R" as Natsu Kitazawa.
Her joyful personality covers a hidden past. She used to dedicate her life to the happiness of her childhood companion, only friend and crush Sho Fuwa.[8] But when Kyoko discovers Sho asked her to come to Tokyo, not because he liked her but because he knew he could use her as a maid, her angry and vengeful spirits escape her "Pandora's Box."[9] She vows to get her revenge. Sho says that the only way she can reach him is by going into showbiz[10]. Thus, she joins Sho's rival agency LME, with only one goal in mind: Revenge!
Appearance
Before Kyoko found out that Sho Fuwa was only using her to do house-maid work, Kyoko had long black hair. Because she was working three-part time jobs due to pay for Sho's expensive tastes, her hair was usually up in a pony tail, but it was unkempt and wavy whenever her hair was down.
Early on, she did not consider her appearance to be more important than supporting Sho. Though she longed to follow make-up and fashion trends like other teenage girls, she pretended that not to care material items [11], and would rarely buy anything for herself other than the 'Sho Fuwa' merchandise. Before working at LME, she wore her uniform from her part time job or casual clothing she previously owned before coming to Tokyo.
After her makeover, she cuts her hair to chin-length, dyed it a chestnut color [12][13] and she slightly updated her clothing, buying a new skirt and jacket.
Usually, she wears her bright pink Love Me jumpsuit while at LME, or on a Love Me Department job. When she has work to do, she wears a top with a white jacket paired with skirt and boots. She is seen always using a bag given to her by Taisho's wife.
Physical Description
Height
163 cm (5'3")
Weight
52 kg (114 lbs)
Eye Color
Golden Brown
Hair Color
Chestnut[12][13] (Originally Black)
Kyoko's appearance normally changes drastically for each of her roles. Some mock her by claiming her onscreen beauty is due to computer graphics and make-up, and many say that she looks much different in her roles than how she is in real life, to the point that she becomes unrecognizable[14], even to the people that personally know her.[15][16][17][18] Konoe, the director of Tragic Marker, who knew the Heel siblings, failed to recognize Setsuka as being played by the same actress who played Mio, until both Ren and Kyoko explained it to him. Her appearance also changed drastically during the Dark Moon party,[19][20][21][22]. Kyoko wore a floor-length dress and had long extensions put into her hair.
Even during her the audition for the role of Momiji, all the candidates failed to recognize Kyoko and considered her to be a newbie. It was not until Kyoko's answer to Kimiko's manager that many showed a surprised reaction and began to guess who she really is. Kimiko and her manager, however, were still in dark.
Personality
Kyoko is a kind and hardworking girl who always puts others before her. For most of her life, she lived to please others. She is shown to be very clever academically; she manages to pass the High School entrance exam with the highest grades, 100%[23]. However, she is a little bit dense and naive about some things. She believes in fairies and always dreamed of her "prince charming" (which was Sho)[24] being her husband before he broke her heart. Due to negative experiences in her childhood, she constantly devalues her own worth.
Kyoko is a perfectionist, once she does something, she won't stop until she feels that it's 'perfect'.[6][25]
As a sixteen year old she was hard working, having three jobs at once to support Sho[26]. Although she is usually frugal, Kyoko obsessed over Sho and felt compelled to buy all of his merchandise[27]. When she realized Sho's betrayal and her little vengeful demons were released[28], Kyoko became very quick to anger when his name was mentioned[29], although most people believe that this is because she's his fan[30][31].
Kyoko is initially conservative; she doesn't like seeing people without their top on, even the people who are close to her, like Sho[32] or any gestures relating to that. But, she became less conservative for the sake of acting, in order to reach her goal to be Japan's top actress and to be more famous than Sho.
The most important change in Kyoko is that she has lost the ability to love after Sho's betrayal. Although she can still feel the love for a friend (such as Kanae), she ruthlessly squashes any romantic urges. She remains completely oblivious to Ren's affections despite others (such as Yukihito and Kanae[33][34]) pointing it out. She remains firm in her belief that no one could possible be romantically interested in her, and that love is "a prelude to despair and disaster"[35].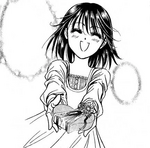 When putting her mind and energy to acting, she can become any character she wants, and the personality can stick with her even outside of the role, as shown when she plays Mio. She can also pull off heartless facial expressions even when she isn't in character in hopes to deter someone.
Kyoko shows that she has an incredible talent for acting, with Chiori even referring to her as "butterfly" or "fairy" as her talents are so fantastic[36]. Kyoko gradually becomes more absorbed in acting as a passion and gets conflicted over what she wants, revenge against Sho, respect from Ren or an acting career. She has a strong sense of determination and caring which she applies in her work and life.
Background
Kyoko was born and raised in Kyoto. Her mother was mostly indifferent and cold towards her. On tests her mother would only acknowledge Kyoko if she got a perfect score. Often, her mother would leave her at a nearby Ryokan managed by Sho's parents.[37] When Kyoko was six years old, her mother left her in the care of Sho's parents.
It is later revealed that Kyoko's mother, Saena works as lawyer in Tokyo. Like Kyoko, Saena has had negative experiences with love. When they meet, Saena tells Kyoko that her father is Kazushi Misonoi. Kazushi was Saena's first real love interest. The two bonded over their supposed shared experience in the legal field. However, Saena discovers that Kazushi had only gotten close to her in order to steal important files for a case she was working on. It is unclear if Kazushi developed legitimate feelings for Saena over the course of their acquaintance. Nevertheless, it did not stop him from stealing the files for the Jou case. It was only after Kazushi had fled that Saena discovered she was pregnant with Kyoko.
When Kyoko was 6 years old, she ran away to the forest near the Ryokan and met the then 10-year old Kuon Hizuri. She thought Kuon was a fairy because of his foreign blonde hair and green eyes. The two quickly become good friends.
Throughout elementary and middle-school, her relationship with Sho [38] makes it difficult for Kyoko to make female friends. Other girls are shown to be jealous of their relationship. Kyoko is the frequent victim of bullying, getting her lunch thrown in the trash on at least one occasion.
In her youth, Kyoko lived solely to please others. She worked hard at the Ryokan to please Sho's parents and she always tried to get 100% on all her tests in school to please her mother. She often cried over her cruel and indifferent mother who, no matter what she did, could not be pleased.
Knowing she made Sho feel uncomfortable by crying in front of him, Kyoko usually left for a secluded spot nearby the Ryokan to cry[39]. This is where she met Corn/Ren whom she believed to be a fairy prince[40]. They had only known each other for a few days when Corn/Ren had to leave. He left her with a blue stone and he told her she could put all her sad feelings into the stone.
After finishing middle school, Sho asked Kyoko to follow him to Tokyo so he could realize his dream of becoming a famous musician. Kyoko, who was deeply in love with Sho at the time, followed him putting herself, as always, secondary to his wants, leaving her regular high school dreams behind her.[41]
Plot
For plot information see the Story Arcs.
Skill
Information below are from Skip Beat! Fanbook - Love Me!
Year 1
Looks
2/5
Fame
1/5
Intelligence
4/5
Determination
5/5
Notability
3/5
Year 2
Looks
3/5
Fame
3/5
Intelligence
4/5
Determination
6/5
Notability
4/5
Relationships
Main article: Kyoko Mogami/Relationships
Filmography
Main article: Kyoko Mogami/Filmography
Appellations
Image
Name
What they call Kyoko
What Kyoko calls them

Ren Tsuruga

ActingActing - Real LifeReal Life Mogami-san
Kyoko
Kyoko-chan[42] (as Kuon Hizuri)




Setsu[43] (as the Heel Siblings)
Mio (Dark Moon)





ActingActing - Real LifeReal Life Tsuruga-san
Corn (when Ren is Kuon Hizuri)
Demon Lord (when Ren is angry)
Emperor of the Night (when Ren shows "Kuon")




Nii-san[44] (as the Heel Siblings)
Katsuki (Dark Moon)





Sho Fuwa

Kyoko
Shape-shifting Demon
Plain/Boring Woman

Sho (when serious)
Shotaro (usually)
Bastard #1 (when mad)
Sho-chan (used to)
Fuwa-chi (once)
| | | | |
| --- | --- | --- | --- |
| Image | Name | What they call Kyoko | What Kyoko calls them |
| | Mimori Nanokura | That girl | Nanokura-san |
| | Shoko Aki | Kyoko-chan | Shoko-san |
Quotes
(to Sho Fuwa) ❝Too bad for you, but the pure and innocent me that you knew is gone forever. ❞[57]
(to Ren Tsuruga) ❝Mr. Tsuruga, does that mean that you want to have your way with me?❞[58]
(to herself) ❝Could it be.. that now, even I could cast a bit of magic too?❞[59]
(talking about Sho Fuwa) ❝But there have been moments when I realize that I do not loathe him as much as I used to. When I feel the day may really come when I'm able to accept the fact that he exits.❞[60]
Etymology
Kyoko's surname Mogami means "most" (最) (mo) and "above, top, upper" (上) (kami/gami).
Trivia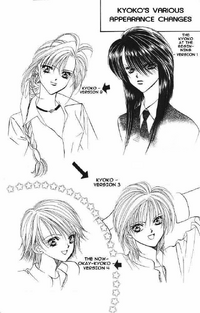 Kyoko's appearance have been changed three times before the editor was finally happy with it. The first version appeared to be a gloomy Kyoko, the mangaka stated she visualized Kyoko as a hardworking member of the community. The second one was a more lively Kyoko, with longer hair. But, the editor said that Kyoko seemed to be more sensible at the age of 16. On the third version, the author cut some of Kyoko's hair to show some of her liveliness, but it was not accepted, the editor said she should give the character a fresher haircut, which leads to the fourth and final version, the Kyoko that appears on the manga now. Yoshiki Nakamura stated that she was glad that her editor did not accept the previous states until Kyoko's character designed looked like what it is right now.[61]
The Skip Beat! author, Yoshiki Nakamura, said that Kyoko was a character she created a long time ago before the actual series even started. She describes that Kyoko is not a "Rightous Hero", or not even a hero and "Healing Hands female character". In an essence, she's not a typical shojo manga protagonist at all.[62]
The Skip Beat! author, Yoshiki Nakamura, also stated that Kyoko was a character that is a reaction of her dark life. When she was working as a mangaka, she drew a set of Kyoko's along with other character appearance in a short 30 pages manga.[63]
Before the author decided to let the producer read the script of the manga, she decided that it would be a long-running series. She said that the inner heart of the series is Kyoko. She said that the character have been decided by her and there is a difference between inner heart and appearance, which will be seen by the rest during the series' lifetime on Hana to Yume.[63]
Gallery
Main article: Kyoko Mogami/Gallery
References