Kojiro Toyokawa
Kanji
豊川 幸治郎
Rōmaji
Toyokawa Kojiro
Personal Information
Gender
Male
Age
Presumably in his late 30's
Status
Status
Alive
Occupation
Manager
Affiliations
LME
Debut
Manga
ACT.020
Anime
The True Face of the Storm

Kojiro Toyokawa (豊川 幸治郎 Toyokawa Kojiro) is the manager of the talent idol group, Bridge Rock. He is also under the LME's Talent Division.
Personality
Kojiro is a capable manager and genuinely cares for the artists he manages. He was seen panicking upon finding out that a regular couldn't make it into Bridge Rock's show and was instantly relieved when he found a substitute for it, just to make sure that everything goes well with Bridge Rock's hosting debut.
Appearance
Kojiro has light-colored hair that is fringed into the left side with dark-colored eyes. During his appearance, he was attired in a light-colored business suit, much like other managers' attires.
Background
Nothing much is known about his background but he has been Bridge Rock's manager ever since they debuted.
Plot
Upon seeing
Kyoko
and
Kanae
in the audience, Kojiro called them out and said that he heard from
Sawara
that there were people from LME who came to watch the show.
[1]
He goes on to introduce himself as the Bridge Rock manager, then told the main agenda to the
Love Me
girls: one of the regulars for
Yappa Kimagure Rock
couldn't make it, so they need someone to fill in. They're especially worried because it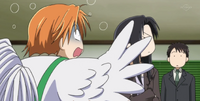 was Bridge Rock's first time on hosting and moreover, it's the first episode and it's live.
[2]
Before he could even finish, Kanae says that they're more than willing to take on the job, because they are part of LME's Love Me Section. Kojiro was relieved that they were willing to go on air.
[3]
He said that they are exactly the kind of people
the president
has his eyes on and if they do well during the performance they're about to take, they could actually become regulars of the show.
[4]
While Kyoko and Kanae were arguing about who's going to take on the Bo costume, Kojiro stops them and told them it doesn't matter so they need to hurry up.[5] He helped out Kyoko to get into the Bo costume to get it done faster, since one of the crew was already calling 'Bo' for standby.
Relationships
Kojiro genuinely cares for them since he was worried about their hosting debut and wanted everything to be organized for them, even personally managing the incident where the Bo mascot in their shown needs to be filled in by another performer.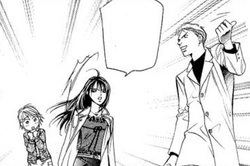 Kojiro was surprised at Kanae's determination upon accepting the job he offered almost immediately, without even letting him finish. He said that her and Kyoko are exactly the type of people the president has his eyes on, the people who are willing to do anything so the audience could love them back. However, later on, he was pretty stressed on her and Kyoko arguing since it was taking a lot of time while they were hurrying since the live broadcast was already airing.
Much like Kanae, he was thankful that they decided to accept the job. However, he was stressed while he was helping her fully dressed on the Bo costume because she was busy arguing with Kanae regarding the Bo costume.
Trivia
He appeared once in ACT.020 and was not seen ever since, even though Bridge Rock has appeared repeatedly in the manga.
In the anime adaption, the part of him speaking to Kanae and Kyoko was aired. He didn't have any lines throughout his brief appearance.[6]
References
Community content is available under
CC-BY-SA
unless otherwise noted.