Kei
Gender
Male
Debut
Manga
ACT.157

Kei is the leader of the ruffians who pick a fight with Cain over Setsuka.
Personality
Kei presents an outward appearance of cockiness and confidence. He is certainly not a coward or one to easily back down.
Kei is also smart and a natural leader.
Appearance
Kei has long, curly black hair that goes past his chin and a square jaw. It prompts Kyoko to call him "seaweed head"[1] and "seaweed hair."[2]
Plot
Kei is nearly killed by Ren while Ren is playing the character Cain Heel and gets possessed by the anger and violence of Kuon Hizuri.
It begins with Kyoko-as-Setsuka waiting on the sidewalk for Ren-as-Cain to return the extra clothing to the store and come back. Kei sees her from behind and with his three friends approaches her. He familiarly puts his arm around her back, his black-gloved hand coming to rest on her left shoulder. This makes her assume it's Cain and as she's looking up Setsuka asks if he apologized to the sales clerk. Her eyes widen in surprise to discover Kei is not Cain.
Kei answers her anyway, completely at ease. "Nooope. I didn't apologize."
[3]
The other three chime in, revealing that they'd just caused a ruckus at a restaurant where they'd hurt the owner and some employees.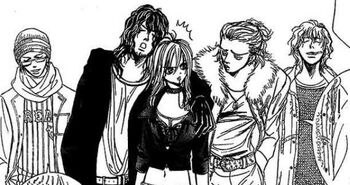 Kei reveals that they are on their way to a different restaurant to get something to eat. He invites her to join them, his treat, and after they can all go somewhere fun. Setsuka says she doesn't mind. Kei gets really excited at this, as if he hadn't expected her to say yes. Setsuka repeats that she doesn't mind, causing instant confusion. She goes on to say they'll have to get permission to borrow her from "the darling over there."
[4]
Kei and friends turn to see Cain, Kei the most unpleasantly surprised. When Setsuka calls out to Cain, addressing him as her brother and asking permission to go play they all react to finding out that he's her brother. Kei's three friends are disappointed, but Kei is pleased. He doesn't doubt that a brother will still let them take Setsuka away when threatened with physical harm.[5]
Kei pretends to be shocked when Cain simply takes Setsu by the hand and leads her away. One of the other guys playfully tells him to relax, that Kazu now has an excuse to get violent. When Cain dodges Kazu's fist despite it coming at him from behing, Kei taunts aloud that "he doesn't just look strong." [6]As the non-fight goes on, with Cain dodging every punch thrown without hitting back one of the friends comments that Kazu is just wearing himself out since Cain keeps ducking at the last second. This makes Kei wonder aloud if that isn't the point, to wear Kazu out and then get him in one shot.
Kei exchanges a look with the other two and together they break out some collapsible beat sticks they were hiding. None of them even spare a glance at the sister anymore. She calls out a warning and grabs Kei's stick. She calls him a coward, and says that all of them attacking one person makes them even worse that Sho Fuwa. This confuses Kei, and he says to her "Hey, let go!" [7]They struggle over his stick, while she continues to tell him that being worse human beings than Sho Fuwa is embarrassing and hopeless. Since they don't want that she urges him to just take his friends and go eat. Kei, who seems to have been taking it easy on her up until that point, takes a more secure hold on the stick and with one massive swing he slams her to the ground, shouting, "Get outta my way! Move it!"[8]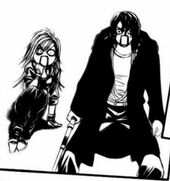 Kei turns back toward the fight and sees that Cain has a hold on Kazu and is staring at what just happened between him and the sister. Kei pauses and his face loses the fierceness it had before. When Cain flips Kazu over and knocks him unconscious in one move both Kei and Kyoko eyes bulge and jaws drop in astonishment and not a little fear.
Cain glares at him fiercely and starts running toward him and Kei screams, not even able to completely get out the word "No" before Cain is on him. Kei starts swinging his beat stick, but can't land a hit. He is being driven backwards as Cain keeps moving closer to him with every dodge of the stick. Finally he is backed up against the brick wall of a building.
Kei slouches slightly, lowering himself against the wall. He decides to take one more swing with the stick, aiming for Cain's neck. Cain catches it in his left hand, pulls it out of Kei's hand and sends in flying behind him all in one motion. Kei has no escape when Cain pulls back his fists to deliver a severe blow.
That's when Setsuka screams, "CAIN! DON'T KILL HIM!"[9]
Cain slams his fists into the brick wall near Kei's head instead of making contact with his face. Kei jerks in an instinctive reaction to avoid it, but his slouched position causes him to lose balance. He falls backward and hits the back of his head on the wall. He lets out a "gyah!" of pain and falls forward. Kei lies at Cain's feet, face down, wincing, and holding the back of his head. He doesn't move or say a word when Setsuka approaches her brother and talks to him.
Quotes
(When Setsuka says she doesn't mind going with him) ❝! Really?! Woo woo! <3❞[10]
(about Cain's fighting method) ❝Maybe that's the point? To wear Kazu out and then get him in one shot...❞[11]
References
Community content is available under
CC-BY-SA
unless otherwise noted.