Kanae Kotonami
Kanji
琴南 奏江
Rōmaji
Kotonami Kanae
Personal Information
Gender
Female
Age
17[1]
Blood Type
A[1]
Status
Status
Alive
Relatives
Older sister Two older brothers, older brothers' wives, nieces and nephews, younger siblings
Occupation
Variety talent
Company
LME
Debut
Manga
ACT.003
Anime
Feast of Horror
Game
PS2 Game
Live-action
Episode 3
Portrayal
Drama CD Voice Actor
Yukiko Tagami
Seiyū
Risa Hayamizu
English Voice Actor
Erica Lindbeck
Live Action Actor
Bianca Bai
Kanae Kotonami (琴南 奏江, Kotonami Kanae) is an aspiring actress who appears in the series, Minamori Miyako, the second member of the Love Me Section [2] and the first found true friend of Kyoko Mogami [3] whom she is fondly called "Moko-san" by Kyoko because Kanae often ends her sentences with the expression Mo'!.
Appearance
Kanae is a fair white-skinned young woman with raven-colored hair that has bangs hanging on the left side, blue eyes and slim body that she is very conscious about her weight and regularly diets. When Kyoko Mogami invites Kanae to eat ice-cream, Kanae refuses because it might gain her weight and it might affect her slim body that she worked hard for (The same thing happened in Grateful Party where she unconsciously eats a lot of sweets while waiting for Kyoko, she sighed because all her efforts into dieting had been wasted [4]).
Physical Description
Height
??? (taller than Kyoko)[5][6]
Weight
???
Eye Color
Blue
Hair Color
Raven

She is seen wearing the Love Me jumpsuit when she doesn't have other jobs and do Love Me tasks on LME. When she wore the Love Me jumpsuit at the first time, her hair was tied up into a ponytail with bandana on her head and black sunglasses covering her blue eyes. Kanae did this because she doesn't wanna be recognized as a member of the Love Me section.[7]
Casually, Kanae wears "elegant clothes" (as described by Kyoko).[8] Her clothing usually consists of a high-quality knee-length skirt and a top with a cardigan and heels or wedges.  
Personality
Initially, Kanae is is shown to blunt and abrasive [9], and to be somewhat antagonistic to Kyoko Mogami. But Kyoko and her met again after the LME Auditions, which they both fail at.[10]
Kanae is extremely competitive, a trait shown when Kanae doesn't acknowledge Kyoko as her "friend", rather acknowledging her as her "rival" because of the acting talent Kyoko has shown.
But later on, Kanae is displayed to have a more softer side, such as being shy on admitting openly that Kyoko is her "friend" even though she acknowledges her.
She finds having friends annoying, reasoning that it's bothersome that she has to care about their feelings, but she is glad to be friends with Kyoko and treasures their friendship.
This is shown when she went through she describes to be "personal torture" to get the perfect gift, a make-up set, for Kyoko. She has an amazing talent to cry in just three seconds and can memorize things on the spot.[11]
Kanae is also very passionate about acting, she sometimes get stuck in a her role even though she's not in-front of the camera[12], she often does research about her roles[13] and criticizes a lot of fellow actors such as Michika Kawagoe, which is one of the reasons she and Chiori Amamiya get along.[14]
Background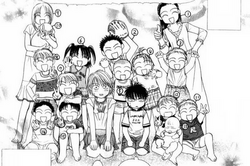 Kanae is the fourth oldest child and second daughter of her family. Her family consists of her father, mother, two older brothers, one older sister, seven younger siblings, six nieces and nephews and two sister-in-laws and one brother-in-law.[15]
Kanae takes role-playing jobs on the side for a bit of extra money from a company outside LME, but it is unknown whether the role-playing jobs she do are legal or not. Her family doesn't even know about this and she only revealed this information to Kyoko Mogami.
She renovated the house her large family lives in because Kanae felt that once she becomes famous, it would be embarrassing to have a bad and ruined house.
Kanae is the apparently richest member of her family, as said by her older sister.[16]
Plot
For plot information see the Story Arcs.
Relationships
Main article: Kanae Kotonami/Relationships
Appellations
| | | | |
| --- | --- | --- | --- |
| Image | Name | What they call Kanae | What Kanae calls them |
| | Chiori Amamiya | ??? (Refers Chiori as a odd one) | ??? (Refers Kanae as "The other member of the Love Me Section") |
Skill
Information below are from Skip Beat! Fanbook - Love Me!
Year 1
Looks
4/5
Fame
1/5
Intelligence
4/5
Determination
3/5
Notability
3/5
Year 2
Looks
4/5
Fame
2/5
Intelligence
4.5/5
Determination
3.5/5
Notability
3.5/5
Quotes
(to Erika Koenji) ❝Why don't you understand that your attitude is the reason why you don't get better?!❞[21]
(mentally talking to Kyoko Mogami and then herself) ❝On your birthday the Princess Rosa came out of the rose Mr. Tsuruga gave you. You insist that the legend you heard from Mr. Tsuruga is true, but to tell you the truth, it's not. That's something quite special. I don't know what that stone is, but it must have been really, really expensive. Mr. Tsuruga put it in a rose to give to you. Isn't that dropping a declaration bomb? I can't help thinking that Mr. Tsuruga… IS IN LOVE WITH HER!❞[22]
(thinking) ❝I hope Mr. Tsuruga doesn't turn into demon lord! Even if Mr. Tsuruga really likes her, he's a grown up, so he won't get angry just because he was the only one who didn't get chocolates from her. But if... well... thinking back from the times he turned into a demon lord... some dangerous factor barged in things would be different.❞[23]
Etymology
The name Kanae means "play music, complete" (奏) (kana) and "bay, inlet" (江) (e).
Kanae's surname Kotonami means "Japanese harp" (琴) (koto) and "south" (南) (nami).
Trivia
The Skip Beat! author, Yoshiki Nakamura mentioned that Kanae is supposed to be the same age as Kyoko Mogami, but is supposed to be prettier and more mature. Yoshiki Nakamura says that the most important part when drawing Kanae is when she is with Kyoko because she doesn't want Kanae to be the easiest character to draw.[24]
Gallery
Main article: Kanae Kotonami/Gallery
References
↑

Skip Beat! Manga Series:Volume 3, Chapter 15, Page 15

↑

Skip Beat! Manga Series:Volume 8, Chapter 43, Page 7

↑

Skip Beat! Manga Series: Volume 20, Chapter 117, Page 21

↑

Skip Beat! Manga Series:Volume 5 Cover

↑

Skip Beat! Manga Series:Volume 26 Cover

↑

Skip Beat! Manga Series:Volume 3, Chapter 15, Page 28

↑

Skip Beat! Manga Series:Volume 27, Chapter 162, Page 24

↑

Skip Beat! Manga Series:Volume 1, Chapter 3, Page 17

↑

Skip Beat! Manga Series:Volume 3, Chapter 15, Page 17

↑

Skip Beat! Manga Series:Volume 20, Chapter 120, Page 15

↑

Skip Beat! Manga Series:Volume 9, Chapter 50, Page 30

↑

Skip Beat! Manga Series:Volume 9, Chapter 50, Page 32

↑

Skip Beat! Manga Series:Volume 26, Chapter 151, Page 22-23

↑

Skip Beat! Manga Series: Volume 9, Chapter 50, Page 20-21

↑

Skip Beat! Manga Series:Volume 9, Chapter 50, Page 21

↑

Skip Beat! Manga Series: Volume 3, Chapter 15, Page 28

↑

Skip Beat! Manga Series: Volume 9, Chapter 49, Page 28

↑

Skip Beat! Manga Series: Volume 17, Chapter 101, Page 14

↑

Skip Beat! Manga Series: Volume 11 Extra Chapter

↑

Skip Beat! Manga Series Viz Media (3-in-1 Edition): Volume 6, Chapter 30, Page 403

↑

Skip Beat! Manga Series VizMedia (3-in-1 Edition): Volume 24, Chapter 141, Pages 459-461

↑

Skip Beat! Manga Series VizMedia (3-in-1 Edition): Volume 24, Chapter 141, Page 462-464

↑

Skip Beat! Manga Series:Volume 3, Chapter 15, Page 5