Jurassic World: Dominion Dominates Fandom Wikis - The Loop
Play Sound
Hiromune Koga
Kanji
古賀 弘致
Rōmaji
Koga Hiromune
Personal Information
Gender
Male
Age
Presumably in his early to mid 20's
Status
Status
Alive
Occupation
Actor
Affiliations
A Lotus in the Mud
Debut
Manga
ACT.243

Hiromune Koga (古賀 弘致 Koga Hiromune) is a popular male actor who is currently starring as the wandering samurai, Shizuma Sakanoe, in the period drama A Lotus in the Mud.
Personality
Hiromune is an easy-going person with a more flexible way of thinking than his co-judges at the Momiji auditions. He doesn't mind having a laugh at their expense,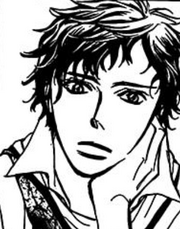 like when he sneered at Kimiko's attempt to glide like a ninja, which came off rather silly. Hiromune is also very friendly, as seen when he approached Kyoko easily right after the second part of the audition ended.
He likes the unexpected for he was delighted and intrigued when Kyoko walked into the audition room. He didn't hide his appreciation of her guts for coming back. He was interested about her character creations suggesting he is quite invested in his own craft. This is further evidenced when Hiromune clearly knew the moves Kyoko was doing and how much he appreciated the transformations she did from her role as Mio Hongo to Natsu Kitazawa.
However, Hiromune is very competitive. He exclaimed that he hated Ren Tsuruga for the fact that Ren have always beaten him in everything. Hiromune even said that if Ren didn't exist, he would definitely be at the top of showbiz world instead.
Appearance
Koga is attired in a light colored jacket that has three-fourth sleeves, underneath this he wearing a darker, patterned shirt. He also has a scarf on in dark marbled coloring however it is low enough on his neck that his jacket collar pops up. His black hair is short and very wavy. It is parted on the left with a short fringe.
Background
He has been an actor for longer than a year for he was included in the "Man who most women want to be embraced by" poll and ranked 2nd after Ren therefore he must have been in showbiz for a while or created a stir to rank so high.[1]
Plot
When Hiromune was first seen, he seemed to be keep a calm face while reading at the script.[2] However, when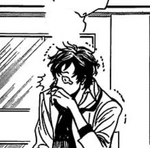 it was Kimiko's turn[3] to act her role as Momiji and failed to do a ninja move she was attempting, Hiromune couldn't help but sneer and laugh at her.[4] After that though, he went back to his calm face as Kimiko's audition went on.[5] He made an unsure, poker face after Kimiko's audition have ended.[6] They were all ready to leave but Hiromune gleamed up and was taken aback when he saw Kyoko entering the audition room. He said that it's like the rise of the dead and it has been a while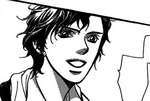 since he saw someone refuse to go home after being told so by Producer Kuresaki.[7] While Kyoko boldly introduced herself, Koga and the other judges read her audition form.[8] Hiromune said that Kyoko already got his attention ever since he looked at her resume.[9] However, Producer Kuresaki disqualified her so he was pretty disappointed. He said that it's quite amazing to see Kyoko's transformation from her "Mio" from Dark Moon to "Natsu" in Box "R" and apart from that, she also looks vastly different from her normal self. Hiromune asked Producer Kuresaki if he
wonders as well how she transformed to Natsu but Kuresaki answered that he doesn't watched shows aimed for teens. Hiromune answered that he was definitely missing out and it's interesting to watch Kyoko's transformations. Hiromune sigh and said that he eagerly wanted to see Kyoko's take on Momoji, that would probably way different from her "Mio" and "Natsu" roles.[10] When Kyoko's audition started, he was watching intently.[11][12] When Kyoko (as Momiji) said that she cannot move without orders of Shizuma[13], Hiromune was given signal by Producer Kuresaki to say out his line to go along with Kyoko's take on Momiji.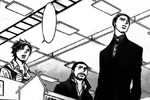 [14] As Kyoko ran to them, Hiromune is amazed at Kyoko's gliding skills and commented how it's amazing for her to not have her head shaking at all.[15] He was further amazed with Kyoko's combat skills [16] and even unconsciously stood up a little from his seat.[17]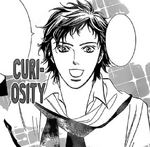 Upon finding out that Kyoko is a part of the Love Me Section, Koga mentions that there is one of them that appears in a certain variety show. It apparently popped up on his twitter and made a group chat about it without even thinking because the pink jumpsuit and their section name couldn't get off his mind.[18] He curiously asked what she does as a Love Me member[19], but was rather disappointed with Kyoko's answer.[20]
During the second part of the Momiji audition, he was once again surprised at Kyoko's combat skills.[21] Hiromune noticed that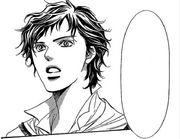 Kyoko did not memorize the whole sequence[22] so she changed the role of "being attacked" to "attacking". Producer Kuresaki agrees with him.[23] Hiromune says that he really likes Kyoko. When Kyoko have finished her part, Hiromune comments on the combat skills she used[24] and remarked that she is the incarnate of Momiji.[25] By looking at her acting skills, Hiromune is impressed at how much Kyoko did to immerse herself as Momiji.[26] He is also impressed with Kyoko's answer regarding stage combat.[27]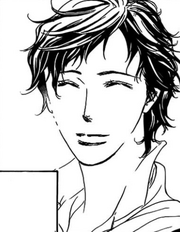 After the second part of the audition ended, he approached Kyoko.[28] Hiromune said that there was something bothering him all so he went to ask Kyoko if "LME" was just short for "Love Me".[29] He said he made the connection by seeing in the internet that the Love Me Section was made by the president himself. When Yashiro said LME's real name, Hiromune was amazed that it had a real name like that. Hiromune recognized Yashiro as Ren's manager[30] but before Kyoko could reply, she showed a flustered face remembering a text from Ren[31], revealing her feelings to Hiromune.[32]
Hiromune says that Kyoko's attraction for Ren is too obvious that he's actually uncomfortable.[33][34] Kyoko denies this[35], but Hiromune says that what she's basically saying is she really does like him. Kyoko agrees suddenly because everyone does like Ren.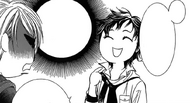 [36] However, Hiromune disagrees because he absolutely hates Ren. Although Kyoko didn't ask, Hiromune says that he hates Ren because he was always beaten by him in everything, even in minor things such as "Most desirable man rankings". Hiromune says that if Ren wasn't there, the world would be his by being the most popular and number one at everything.[37] He then says that it's a shame because he really liked Kyoko and thought she was interesting. As he walks off, he murmurs that it'd be better if she was just one of those girls who only liked Ren for his face.[38] Kimiko joined their conversation[39] Kimiko apparently likes Ren too, even showing off a ring that was apparently given by Ren.[40] Hiromune analyzes the ring and comments that it's pretty expensive and must have something to do with romantic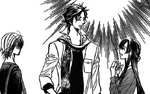 feelings.[41] Kimiko says that even if Hiromune's impression of her have dropped, she hopes that he won't bully her on the auditions.[42]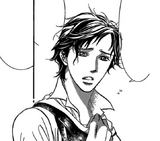 Hiromune says he doesn't have a say on the auditions so he'll just bully whoever ends up being on the set.[43]
Upon the third part of the auditions, Hiromune praised Kanae's combat skills, as if she was taught by Shizuma himself.[44] He also seemed impressed with her acting as Chidori.[45] After Producer Kuresaki criticized Kyoko, Hiromune says that he's glad he's interested in her but he's not a fan of how he's bullying her.[46] Hiromune also noticed how Kanae (as Chidori) gave out signal for Kyoko's Momiji.[47]
Relationships
Upon their first meeting, Hiromune was already interested in her because of her guts. Hiromune said that Kyoko caught his attention while checking out her resume and he was very vocal about his admiration and eagerness to see her portray Momiji. He said that Kyoko looks different from her usual self, her role as Mio, and as Natsu, so she'd probably do an interesting take on Momiji as well. Throughout Kyoko's audition, Hiromune was amazed at how much effort she put in just to immerse herself in the character. When he approached Kyoko after the auditions, Hiromune discovered her feelings for Ren, which disappointed him. He knows that Kyoko's feelings for Ren aren't just for his looks so he said that it was really quite a shame because he thought that Kyoko was really an interesting girl. More than once he mocks Kyoko for her feelings.
Later, Kyoko accidentally bawls in front of him, not realizing that Koga was there. He is unsympathetic. Koga even tells her that she would be better able to win points with him by putting his needs first.
However, their relationship begins to change after Ren is in a romantic scandal. Kyoko turns Koga's teasing of her about Ren into advice to him that this is his opportunity to seize the #1 Desirable Male title. Koga sees her logic and they chuckle wickedly together. Inwardly, Kyoko thanks her experience with hate.

Hiromune and Yuki have a fairly good relationship. Throughout the Momiji auditions. Yuki have constantly asked for Hiromune's thoughts and even considered his opinions seriously, recognizing his expertise and talent as an actor. Hiromune was vocal about liking Kyoko's character and being intrigued at her constant transformations with her roles, which caught Yuki's attention. Hiromune also knows of Yuki's strict rules when it comes to casting and is amazed by it. Although, when it came to Kyoko, he said that Yuki shouldn't bully her too much because she's still a teen.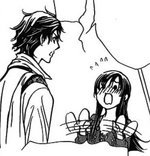 When Kimiko failed to do her ninja slide, Hiromune had no qualms of laughing at her, not caring at what she thinks. However, he was seen having a friendly conversation with her after the auditions. Kimiko showed him and Kyoko a ring apparently given by Ren, Hiromune asessed it and even suggested that Ren might've given it out of romantic feelings.
Although they were never seen interacting, Hiromune is vocal about his absolute hatred for him. He is envious of Ren's ranking as the most desirable man throughout the country, always beating him in project selections and polls. He even went as far that if only Ren didn't exist, he would've taken Ren's spot as the number one celebrity in the country.
Gallery
Main article: Hiromune Koga/Gallery
Quotes
(about Kyoko Mogami) ❝She's pretty bold, huh? I think... I really like this girl!❞[48]
(to Kyoko Mogami) ❝I absolutely hate Ren Tsuruga.❞[49]
(about Ren Tsuruga) ❝If only Ren Tsuruga didn't exist, the world would've been mine.❞
Etymology
The name Hiromune means "vast, broad, wide" (弘) (hiro) and "doth, do, send, forward, cause, exert, incur, engage" (致) (mune).
Hiromune's surname Koga means "old, antiquity, ancient time, used, secondhand" (古) (ko) and "congratulations, joy" (賀) (ga).
References