Eltra Duris
Kanji
エルトラ デュリス
Rōmaji
Erutora Durisu
Gender
Male
Status
Status
Alive
Occupation
Unknown
Affiliations
Lory Takarada
Debut
Manga
ACT.117

Eltra Duris (エルトラ デュリス Erutora Durisu) is a close friend of Lory Takarada. He helped Lory organize the reunion of Kouki and Maria. Eltra dubbed it as "his gift" to Maria, which Maria was very happy about. Maria refers him as "Uncle Tiger".
Personality

He is shown to be a sensible, reliable and genuine person. With just one call from Lory, Eltra was able to help him with getting Kouki to Japan to finally see Maria. The Takarada Family thinks of him fondly for the genuine friendship he has shared with them from the past several years.
Eltra is also shown to be playful and easy-going, as he was able to join Lory's out-of-ordinary plans for the surprise they planned for Maria.
Appearance
Eltra has light colored hair that is swept back with light colored eyes. He was only seen wearing a suit at Maria and Kyoko's Grateful Party.
Background
Although nothing is really known about his background, he has been one of Lory Takarada's close friend for a long time. He also lives far way, presumably in America because in Maria's Grateful Party, Lory refers him as the person who have brought Kouki into Japan. Apparently, Kouki was forced to come by Eltra despite his many hesitations.
Plot
When Maria saw him, she was ecstatic and immediately ran over to him. Eltra says he was invited by Lory as well but his ultimate reason for being there was to see Maria.
[1]
They then hug each other as Maria tells him that
she is grateful that he is there as her and Lory's friend.
[2]
Afterwards, Eltra conversed with Lory about Kyoko, on how she managed to convince Maria to throw a party and her various skills such as acting. Based from what Lory and Maria told him, he said he wanted to meet Kyoko. Lory replied that he will introduce her to him, which made Eltra excited for it. Afterwards, Eltra asks Lory about what time does he want the 'task' done.
[3]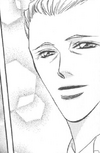 Later on, Maria was going to introduce Kyoko to him
[4]
but he was with Lory, preparing for their surprise for Maria.
[5]
Before the end of party, Lory comes to the stage and performs tricks with Eltra before they reveal their surprise for Maria, her father, Kouki.[6] They refer her father, who has been fetched by Eltra, as their present for Maria after hosting a successful grateful Party.[7]
After Maria and her father successfully reconcile for the first time after several years, Lory winked at Eltra for the successful plan they have organized.[8]
Relationships
The two are very close friends. Eltra said that no matter how busy he is, he'll drop everything and come over to Japan with just a call from Lory. He calls Lory 'master' while Lory calls him 'L Tiger'. He is aware of Lory's extravagant behavior ever since, even accusing Kouki of inheriting his father's work habits which transformed him into the serious workaholic he is. Eltra have coordinated with Lory to get Kouki as 'surprise' for Maria on the grateful party they have organized.
He converses with Kouki before they reveal him as the 'surprise' for Maria. Eltra says that even until now, Lory never changed his lavish attitude. Kouki agrees, saying that ever since he was young, Lory has always been like that. Eltra then says that Kouki must have inherited his serious work habits from Lory, just by looking at how extravagant he always want everything to be.[9] Kouki says he understands but he cannot disregard work for personal matters.[10]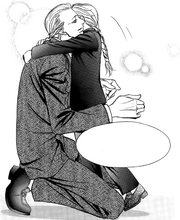 Kouki says he feels bad for Eltra, for having to perform the mystery box with him but nevertheless, he thanks him for helping.[11]
Eltra and Maria have a good relationship, she even refers to him as 'Uncle Tiger'. When Maria saw Eltra, he immediately ran over to him and gave him a hug. At Maria's Grateful Party, Eltra have planned with Lory to give Maria her surprise, her father. When the surprise was revealed, Eltra was the one who whispered to Maria that because Kouki didn't get an invite, he was hurt. This moved Maria and caused her to face her father.[12]
Eltra have heard stories about her from Lory and Maria. He has praised her for having cooking skills and good acting skills at the same time. He asked Lory to introduce her to him, which Lory agrees to.[13] Later on in the party, Lory does introduces Eltra to Kyoko. He asks her what would make her happy in what she'll obtain in the showbiz industry later on. Kyoko then replies that she wants to do a lot of things as an actress, to be a 'first-rate actress'.[14]
References
Community content is available under
CC-BY-SA
unless otherwise noted.