The anime adaptation of the Skip Beat! Manga series was directed by Kiyoko Sayama and animated by Hal Film Maker, it began airing in Japan on October 5, 2008 and ended on March 29, 2009.[1]
The first opening theme is "Dream Star" by the generous. The first ending theme is "Namida" by 2BACKKA.The second opening theme is "Renaissance" by the generous, and the second ending theme is "Eien" by Yūsaku Kiyama.
Anime streaming website Crunchyroll also officially streams the anime online with English subtitles due to an agreement with TV Tokyo.
Manga Comparison
The anime follows the manga partway through the Dark Moon arc and stops at chapter 66.
Trailer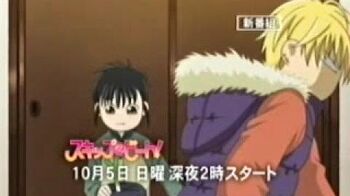 DVD Version
In the DVD Version, there are total of 9 CD's that each contains 3-4 episodes.
References