The Feast of Horror - Part 1 is the 3rd chapter of the Skip Beat! manga series.
Plot
Ren Tsuruga discovers Kyoko's motivation for entering showbiz, which makes Ren dislike her. Meanwhile, the day of the LME audition starts! How will Kyoko do in the auditions? Will she finally become the top star she wants to get her revenge?
Chapter Summary
After crashing into Ren, he notices that Kyoko has the forms for entering the audition. Ren shakes his head, sighs and gives Kyoko a  "There's no way..." look.   Kyoko gets mad at him but Ren just ignores what she says.
She finally gets passionate about it and he seems impressed, but then turns suddenly dark about the fact that she is not really serious about the industry.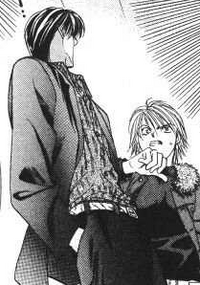 Later in the night, Kyoko fills out the forms and dreams about her incoming stardom. She pins a photo of Ren to the wall "Just wait and see, Ren!" and then a much bigger one of "that idiot" right next to it.  She then returns to her evil maniac laughing.
The poor Darumaya couple, Taisho and his wife where just next to her room, can't sleep because of it.
The day of the audition arrives, and Kyoko finds there are many pretty girls. A raven-haired woman appears, Kanae Kotonami with a little girl and asks who her mom is. Kyoko happens to meet the raven-haired woman's eye, and so she dumps the little girl on her.
Some of the other girls start playing with the little crying girl, but Kyoko acts cruel on her and tells her not to cry for help, because not everytime that someone will help her when she cries.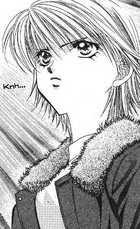 Inside the audition room, the poor Sawara sees that in the next batch of girls, there is Kyoko.
Elsewhere, Ren thinks about the audition. His manager thinks that it's odd for Ren to care about the LME Auditions.
Kyoko and her group are taken to the big audition room as the little girl looks at her with a really evil face.
Inside the room, the girls are put onto a stage, and just as Kyoko realizes that the president from the company is missing from the "judges" panel, there is a big explosion of confetti and several exotic dancers appear in front of them.
As the dancers move all over the place, a man in a really bad Mexican costume appears.
All the girls look in painful horror. Guessing who the flamboyant person, Lory Takarada; The LME President.
Characters in Order of Appearance